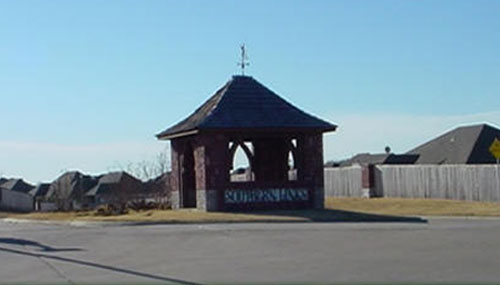 Southern Links is a subdivision of Owasso, located on the south side of Bailey Ranch Golf Course. It is further divided into 3 communities The Village, The Estates, and the The Summit. It consists of 61 homes in the Village, 23 homes in the Estates area, and 33 homes in the gated Summit area.
The main entrance to Southern Links is located at 101st Street East on 86th Street North in Owasso, OK 74055.
It is located at the far northern side of Tulsa County. Many homes in Southern Links surround Owasso Lake giving them a gorgeous view of both the water and the golf course. It is a pleasant neighborhood because of its beauty and friendly residents.
ATTN: Board Meetings
The board continues to meet through Zoom calls. If you'd like to attend one of these Zoom calls, please reach out to your board representative.
ATTN: Homeowners
Homeowners, their children and guests are NOT allowed onto the golf course or around the lake unless access is granted through Bailey Ranch Golf course. The golf course and lake belong to the city and are not associated with our subdivision. Being on the golf course presents a liability hazard for the city and for the golfers who are there with permission. If you are caught on city property you risk arrest and/or legal liability. Do Not Trespass on city property and Do Not Harass the golfers.
If you plan to plant a tree or other shrubbery around your yards, please go to https://okie811.org/ and request they check for underground lines. It's the law.