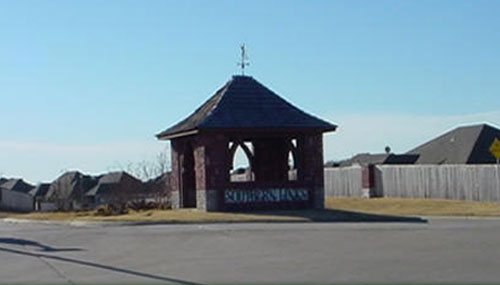 Southern Links is a subdivision of Owasso, located on the south side of Bailey Ranch Golf Course. It is further divided into 3 communities The Village, The Estates, and the The Summit. It consists of 61 homes in the Village, 23 homes in the Estates area, and 33 homes in the gated Summit area.
The main entrance to Southern Links is located at 101st Street East on 86th Street North in Owasso, OK 74055.
It is located at the far northern side of Tulsa County. Many homes in Southern Links surround Owasso Lake giving them a gorgeous view of both the water and the golf course. It is a pleasant neighborhood because of its beauty and friendly residents.
ATTN: Owasso School Redistricting

No doubt you've heard about the proposal to redistrict Southern Links from Barnes Elementary to Ator Elementary. It is believed there is a scheduled vote on the plan on March 11th in the regularly scheduled school board meeting.
There are also two informational public meetings on the 26th and 28th at the 6th grade center at 6:30PM for anyone that would wish to show up to get more information or to further discuss the proposed boundaries.
If you'd like to get involved in the discussion, please contact board member:
Dr. Richard M. Zamor @ (405) 250-7729